5th Annual Ethics in Professional Practice Conference
---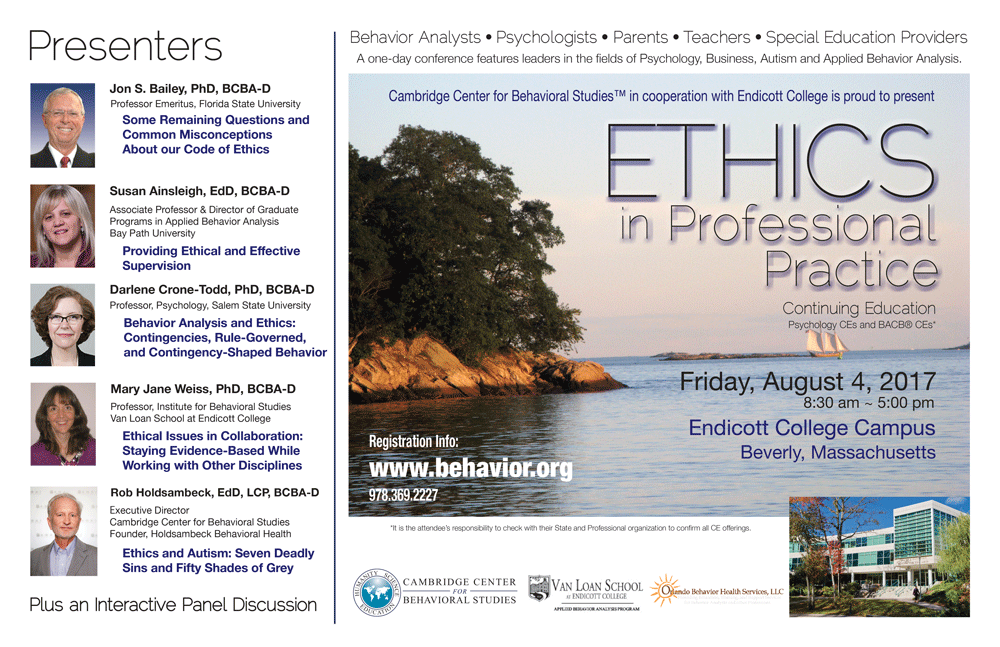 A one day conference featuring leaders in the fields of Psychology, Business, Autism and Applied Behavior Analysis. Of benefit to Behavior Analysts, Psychologists, Parents, Teachers and Special Education Providers.
Friday, August 4, 2017 - 8:30 am - 5:00 pm
Endicott College Campus, Beverly, Massachusetts, Rose Performance Hall, Walter J. Manninen Center for the Arts
Presenters:
Jon S. Bailey, PhD, BCBA-D, Professor Emeritus, Florida State University
"Some Remaining Questions and Common Misconceptions About our Code of Ethics"

Susan Ainsleigh, EdD, BCBA-D, Associate Professor & Director of Graduate Programs in Applied Behavior Analysis, Bay Path University
"Providing Effective and Ethical Supervision"

Darlene Crone-Todd, PhD, BCBA-D, Professor, Psychology, Salem State University
"Behavior Analysis and Ethics: Contingencies, Rule-Governed, and Contingency-Shaped Behavior"

Mary Jane Weiss, PhD, BCBA-D, Professor, Institute for Behavioral Studies, Van Loan School at Endicott College
"Ethical Issues in Collaboration: Staying Evidence-Based While Working with Other Disciplines"

Rob Holdsambeck, EdD, LCP, BCBA-D, Executive Director, Cambridge Center for Behavioral Studies™ and Founder, Holdsambeck Behavioral Health
"Ethics and Autism: Seven Deadly Sins and Fifty Shades of Grey"

Plus an Interactive Panel Discussion
Registration Fees
Registration Type

Early Registration Ends 7/20/17*

Onsite & After 7/20/17

Student/Non-professional

$75

$100

Professional

$165

$200

Professional Group (5 or more)

$125

n/a

Continuing Education credits/units desired: $40 for Each Certificate requested.

Groups: For groups of 20 or more registering, we will offer a discount from early registration fees. All groups need to complete a Group Registration Form. Contact Rebekah Pavlik through pavlik@behavior.org or (978) 369-2227 Ext. 2.
Continuing Education Opportunities:
Psychology (Includes Licensed psychologists, school psychologists, and EdDs/educational psychologists) and BACB® CEs.
An additional $40 fee is required for continuing education.

Psychology CEs (6.0*): Orlando Behavior Health Services, LLC is a co-sponsor of this conference for Continuing Education Credits for Psychologists. Orlando Behavior Health Services, LLC is approved by the American Psychological Association to sponsor continuing education for psychologists. Orlando Behavior Health Services, LLC maintains responsibility for this program and its content. *Attendees must be present during the entire conference.
BACB® CEs (7.0): The Cambridge Center for Behavioral Studies is an approved Type 2 CE Provider by the Behavior Analyst Certification Board® (BACB®) and is authorized to offer 7.0 CE units for this conference. (7.0 ETHICS CEs including 1 Supervisory)
Schedule
General Directions to Campus
Campus Map Entry/Parking
Presenter Abstracts & Bios
Continuing Education Opportunities 
Presented by:
Cambridge Center for Behavioral Studies™ in cooperation with The Institute for Behavioral Studies, Van Loan School at Endicott College
Special thanks to Orlando Behavior Health Services, LLC and the University of West Florida, Office of Applied Behavior Analysis for expanding our continuing education offerings.

*It is attendee's responsibility to check with their State and Professional organization to confirm all CE offerings.
| | |
| --- | --- |
| Venue: | Endicott College Campus |
| Address: | Beverly, Massachusetts |
| Starts: | Aug 4th, 2017 |
| Ends: | Aug 4th, 2017 |
Attending:
Maybe Attending:
Pictures:
Comments
---